Attention Restaurant Owners!


Display your complete menu on Menu Joy!
You can have printable coupons with your menu, as many as you want.

If you are within 90 miles
of the center of New Bedford, Massachusetts,
Click Here for information
about putting your menu on Menu Joy.

To measure how far away from New Bedford your restaurant is,
Click Here and then click on "Get Directions".

If your restaurant is more than 90 miles from New Bedford,
the price is $49 per year.

There is a $20 charge to make menu or coupon changes, additions, deletions, etc.

The setup charge is $30
To display your menu on Menu Joy,
mail the following items to the address below:

Your restaurant menu or menus (Dining Room, Take-Out, etc.)
The name, address and telephone number of your restaurant
A list of the days and hours your restaurant is open
Information regarding Take-Out and/or Delivery (if applicable),
how far you go, delivery charges, etc.
Pictures of your restaurant
(Close-up of sign, Front of Restaurant, Logo, etc.)
(or eMail digital pictures to chef@menujoy.com)
Setup + first year's fee: check or Money Order for $79,
payable to "JAMES DONNELLY"
(or send $79 via PayPal to chef@menujoy.com)
Mail to:
MENU JOY
PO BOX 51473
NEW BEDFORD MA 02745-0044

Call 508-999-1788 if you have any questions.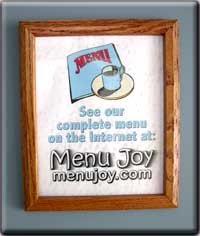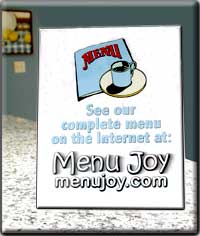 To promote your menu on Menu Joy,
you can download and print this 8x10 sign
to display in wall or countertop frames in your restaurant.



You will also be able to display the Menu Joy logo in your advertising.

Questions?
eMail chef@menujoy.com

or call 508-999-1788