Q&A
What Is Menu Joy?
Menu Joy is a one-stop, central point website where diners and shoppers can find complete menus, and discount coupons, from a wide variety of restaurants and businesses in New Bedford and Fall River, Massachusetts and surrounding areas.

Menu Joy will feature your menu and descriptions of your food offerings, products or services, along with a photograph of your restaurant, a close-up of your sign or logo, and a printable coupon, if desired.

How much does it cost for a restaurant to put their menu on menujoy.com?
Restaurants can make payments with gift certificates:
five $10 certificates per month.

The price is much lower if you are more than 90 miles from the center of New Bedford, Massachusetts.
Click Here for more information.
How will the gift certificates be used?
The gift certificates will be offered as prizes and other incentives to menujoy.com website visitors to encourage repeat website visits and exploration of the menus.

Gift certificates will also be auctioned or sold to cover advertising costs and other expenses.
How will people find out about menujoy.com?
In the Southeastern Massachusetts area, Menu Joy is advertised in newspapers, cable television and other media, bumper stickers, outdoor signs in high traffic locations as well as on counter cards and signage inside participating Menu Joy restaurants and businesses.

In other areas at this time, it would be up to the restaurant owners to publicize their menu on menujoy.com in their advertising and in-store displays.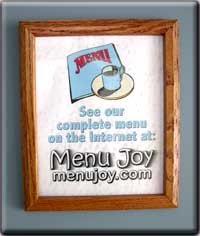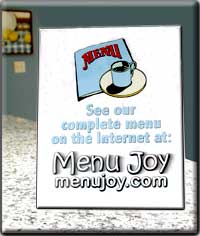 To promote your menu on Menu Joy,
you can download and print this 8x10 sign
to display in wall or countertop frames in your restaurant.



You will also be able to display the Menu Joy logo in your advertising.