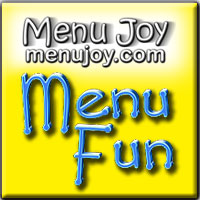 This will be the last Menu Fun drawing.
We thank everyone for playing all these years!
(since 2001!)


Last Month's Questions:


#1

Which restaurant offers a sandwich with pork and salami in it, and what is it called?
Answer: Buster's, Dartmouth,
offers "Cuban Sandwich."


#2

Which restaurant offers a dish that you can design yourself,
with mashed 'taters on the bottom, and corn in the middle?
Answer: Braza Rotisserie, New Bedford offers "Braza Bowls."



#3

Which Gaelic-themed restaurant offers a Spanish-themed seafood appy?
Answer: Dublin's, New Bedford
offers Spanish Style Mussels.





Last Month's Entrants:
Listed below in a randomly selected order
are the names of everybody
who answered the questions correctly last month.

If your name is #1 on the list, you are an instant winner!
CLAIM YOUR PRIZE!

If you're not #1,
but nobody above you in the list has claimed the prize,
CLAIM YOUR PRIZE!

If nobody higher than you on the list claims the prize
by the end of the month, then you will be the winner!

Limit one free Menu Joy Gift Certificate per month
per eMail address and per household.
Thank you.
Current Drawing
Apr 2014
Position
Username
Entry Date
Status
#1
NJShiek
3/3/2014

Winner!
NJShiek wants to eat at:

China Star
963 Kempton Street
New Bedford, Massachusetts

#2
Nellie Urquart
3/3/2014
unclaimed
Claim Prize Here
#3
Lindsay D
3/8/2014
unclaimed
Claim Prize Here
#4
bern3751
3/26/2014
unclaimed
Claim Prize Here
#5
nycjoed
3/9/2014
unclaimed
Claim Prize Here

Winner from previous month:
nycjoed chose a certificate to:


Churrascaria Aveirense
175 Sawyer Street
New Bedford, Massachusetts